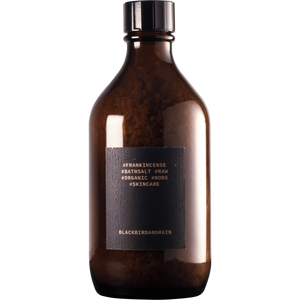 Frankincense Grey Bath Salt
Regular price £28.00 Sale
Frankincense grey bath salt is grounding and calming, perfect for when you need to reconnect to your inner self. Adding salts to your bath will help cleanse and detox your body by stimulating your circulation and flushing toxins out of your pores.

About
Organic Frankincense Oil - beautifully balancing and warming. It will wrap you in a comforting blanket while uplifting your senses. Frankincense supports healthy skin rejuvenation and is strengthening and nurturing for mind and body.

Unrefined French Grey Sea Salt - truly raw, uniodised, unbleached and free from anti-caking agents. It contains a full spectrum of trace elements and minerals and gains its colour from the clay lined salt ponds making it a perfect skin detoxifier. Collected and processed by hand in western France using traditional methods it comes with the Nature et Progres organic certification. 

How to Use
Run your bath as normal adding a generous 1-2 tablespoons of salt. Give the bath a good swirl before you get in and enjoy. 

If irritation occurs, please discontinue use. To ensure the bath salt is of the quality your skin deserves remember to use within 6 months of opening and use by date.
Ingredients
french grey sea salt (maris sal), frankincense oil (boswellia serrata), limonene*
*natural constituent of essential oils listed